Rampant deforestation and degradation of West Africa's tropical forest area is occurring due to the expansion of smallholder cocoa farms that depend on environmentally destructive practices like slash-and-burn and land clearing.
According to a new study by researchers at the International Institute for Tropical Agriculture (IITA) and the Center for International Forestry Research (CIFOR), farmers could have achieved the same outputs through the intensified use of fertilizer and improved crop husbandry. And this will have significant impacts on REDD+ implementation in the area.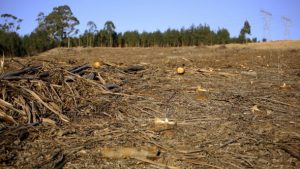 The Guinean Rainforest (GRF) of West Africa, identified over 20 years ago as a global biodiversity hotspot, had reduced to 18% of its original area at the start of the new millennium. This region is famous for its cocoa production with Côte d'Ivoire, Ghana, Nigeria, and Cameroon accounting for 70% of global cocoa supply for the last 20 years.
Recent figures show that West Africa's cocoa production doubled between 1987 and 2007 with most of this increase fuelled by clearing forest areas, resulting in large losses of biodiversity and high carbon emissions.
The entire face of the situation poses a big threat to the future of West Africa and the remaining forest pockets.There needs to be a very holistic approach to the cocoa farming.Highly productive farming that gives high yields at a small acreage rather than massive clearance of forests for poorly executed agricultural practices that have less harvest.