You want to have a life-time,unforgetable experince of a tour expedition in Kenya?From the scenic second highest mountain in Africa(Mount Kenya) to the high  country,paragon of wildlife and life-Laikipia .Or the breath-taking scenic wilderness natural  empires  Samburu experience.We are ready to bisect each contour and cross every line of the Kenya  and the neighbors to give you a safari to remember.You would love to visit:
 MERU NATIONAL PARK 
Meru National park is a Kenyan Game park located east of Meru,350kms from Nairobi.Covering an area of 870Kms sq,it is one of the most known parks of Kenya.It has abundant rainfall 635-762 mm in the West of the park and 305-356mm in the east."complete wilderness"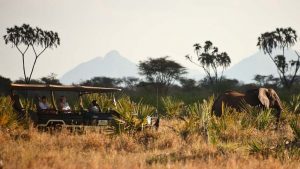 The park was brought to fame in the 60's through Joy Adamson's bestselling book, Born Free, the true story about Elsa the lioness.  A gem in the KWS portfolio, Meru National Park is a semi-arid park boasting 13 permanent rivers and springs, which meander through otherwise dry terrain flanked by rich vegetation of Doum and Raphia Palms. The natural habitats of Meru are therefore incredibly diverse, varying from dense thickets and wooded grasslands to open plains. Meru's rich wildlife diversity includes rare species specific to northern Kenya, such as Grevy's zebra, gerenuk, Somali ostrich, reticulated giraffe, as well as  buffalo, elephant, hippo, lion, cheetah and leopard. Lesser kudu and greater kudu, as well as caracal are exceptional species found in Meru. The park also incorporates an 84km2 rhino sanctuary, making Meru one of the prime destinations to see rhino in their natural habitat. The birdlife in Samburu and Meru is extraordinarily colourful and abundant with over 400 species of birds.
PORINI CAMP MARA
This small camp offers tented accommodation for a more 'real' safari experience. Set in pristine wilderness with savannah plains, riverine forest, springs, streams and rivers, rolling hills and great views across the Mara.
Location of Porini Mara Camp
In the exclusive wildlife conservancy of Ol Kinyei, one of the most beautiful wilderness areas in the Serengeti-Mara eco-system.
Facilities at Porini Mara Camp
Offers outdoor dining where excellent food including home-baked bread, fresh salads and high quality meals are prepared by the camp chef, and served by the hospitable Masai staff. Leisure facilities include day and night game drives, sundowners and guided walks.
Accommodation at Porini Mara Camp
6 spacious tents with en suite bathrooms (2 adults and 1 child).
Board Basis at Porini Mara Camp
Breakfast, lunch, dinner, soft drinks, house wines, beer and gin included.