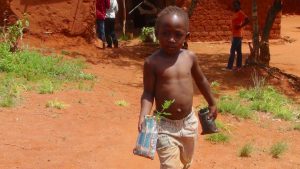 Tree planting is one of the best ways we can reduce the effects of desertification and mitigate climate change.There is need to have a holistic approach of conservation that puts to consideration the need to cater for environmental challenges that do relate with our daily lives and the universe.
Just recently,we planted 100 trees under our Green Initiatives project of Oloimugi.The event involved children mostly  as well as our volunteers who work with us.-as we train them to be future stewards of conservation.The trees will continue to watered,mulched and manured by the team even as we plan to plant another set ahead of the mid-October rains.
Trees help in preventing soil erosion and as a result there is more vegetation and food for wildlife and humans and their livestock for example.This helps reduce human-wildlife conflict as there is reduced competition for resources.The food chain and food web at larger remains stable in the eco-system hence reduced conflicts/peaceful co-existence between wildlife and humans.Water catchment areas increase through tree planting and enough water means more life and the wild does not have to fight with livestock over water points which are scanty many times.
So we keep going strong and hope to get more support and partnerships to undertake more environmental conservation efforts.!For now we have to do is as"The biggest mistake in the human race is waiting for someone else to do something you should do ,while they also reason same way"!